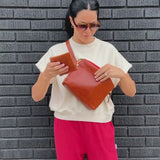 PAK | Perforated Chestnut (Poppy Zipper)
Anatomy Of

The PAK is the ultimate functional luxury clutch, with the option of a detachable strap to transform it into a crossbody, shoulder, or belt bag. The bright Ripstop lining makes it easy to wipe clean. Constructed with a flat bottom and tapered silhouette, so it stands up on its own and fit comfortably under your arm. Great for carrying as a sleek clutch or storing and organizing your essentials inside a larger tote.

Made of full grain perforated leather
Lined with Kelly Green suede
Brass hardware
Leather label slip pocket
Zipper closure
Option to add a detachable strap

*Please be sure to choose your strap; a Snap Strap will be included if no other choice is selected.
Measurements

Height: 7.5"
Width: 11"
Depth: 2.5"
Behind The Design

The design for the PAK was inspired by the first three of my girlfriends to have children – Paige, Kristin, and Anne. They were some of the first to carry my bags, and the first to happily give me feedback. They needed wipe clean lining. It needed to be the perfect evening bag; then effortlessly transition into a place they could safely keep half eaten snacks (that we all know will never be finished) while schlepping their kids around town the following afternoon. Tall order, but I was committed to coming through, and so I did with the PAK. I feel very fortunate to have women in my life that inspire me to create functional pieces. (Paige: beloved Teacher/Social Worker; mom of 2 / Anne: Chef & Entrepreneur; mom of 4 / Kristin: Judge; mom of 4).